Life Without Plastic?
Life without plastic. To most people, such a dream is unimaginable. Plastic surrounds us and is used to create items that serve any purpose imaginable, so many times finding alternatives is easier said than done. Even so, with the alarming increase in plastic pollution over the last few decades, this pressing matter is gaining more attention and a new way of thinking is emerging: eliminate plastic use by showcasing alternatives.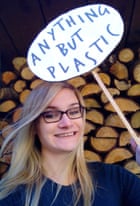 Trail blazers in this field, such as Jenny Derry of the UK, have opened online shops which only sell 100% plastic free items. In her own words, Jenny describes that "it got very consuming" to cut plastics from her own life, as she had to find replacements for every item she stopped using. Her store
Anything But Plastic
is a great example of an individual desire to make a positive change in the world and to engage with and bring people of the same mindset together.
Others interested in eliminating plastic use from their lives have started blogs which document their experiences and lessons learned. Websites such as Life Without Plastic or My Plastic Free Life offer alternative solutions to plastic use for every faction of your life.
Eliminating plastic use cannot be done at the drop of a hat; it is currently a part of our lives, but it does not have to be this way for much longer. We can all make a positive impact by growing more conscientious of the negative effects of plastic pollution and taking an active role in eliminating, or at least reducing our footprint on this issue.
Sources:
https://www.anythingbutplastic.co.uk/
https://www.theguardian.com/environment/2018/jan/17/is-it-possible-to-live-without-plastic-readers-tips-for-for-tip-free-living