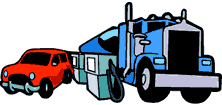 Post By: Badr Alyamani
DIESEL OR GASOLINE?
If you or your parents owned a diesel car 20 years ago, you may have some bad memories of the experience. American drivers have steered clear of diesel since the early 1980s because many of the cars were unreliable, noisy, and polluting. Though today's diesel cars have overcome most of their past performance problems, they account for only a few percent of new automobile and truck sales in the US.
In Europe, on the other hand, about 40% of new cars sold are diesel, amounting to more than five million vehicles each year. The demand for diesel in Europe is fueled by the high cost of gasoline. (Unequal taxation of the two fuels results in diesel costing about one dollar less per gallon in most European countries.)
Over the past few years, diesel's popularity as an automotive fuel has grown significantly. Thanks to its higher energy content and its efficient combustion process, diesel performance enables cars to travel at least 30% farther on a gallon of fuel than comparable gasoline models.
The improved efficiency of diesel engines can also help reduce oil consumption. It should be noted, however, that it takes about 25% more oil to make a gallon of diesel fuel than a gallon of gasoline, so we should really look at how a vehicle does on fuel efficiency in terms of "oil equivalents." Thus, we need to adjust the mileage claims for diesel vehicles downward by about 20% when comparing them to gasoline-powered vehicles.
Comparison – Diesel vs. Gasoline
| | | |
| --- | --- | --- |
| CATEGORY | DIESEL | GASOLINE |
| Initial cost | – | ok |
| Range | + | ok |
| Extreme towing capability | + | ok |
| Infrastructure availability | – | + + |
| Tested tailpipe pollution | – | + |
| In-use pollution | – – | – |
| Maximum potential oil reduction | + | + |
| Maximum potential global warming benefits | + + | + |
| Cost-effectiveness for oil reduction | + | + + |
| Cost-effectiveness for global warming benefits | + | + + |
| Net consumer savings | + | + + |
KEY:
Excels in this area
+ +
Does well in this area
+
Performs adequately in this area
ok
Does less well in this area
–
Performs poorly in this area
– –
Here is an interesting video about a comparison between vegetable oil and diesel: